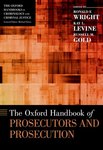 Title
The Oxford Handbook of Prosecutors and Prosecution
Description
The power of the modern prosecutor arises from several features of the criminal justice landscape: widespread use of law and order political rhetoric and heightened fear of crime among voters; legislatures' embrace of extreme sentencing ranges to respond to such concerns; and the uncertain or limited accountability of prosecutors to the electorate, the bar, or other political and professional constituencies. The convergence of these trends has transformed prosecution into an indispensable field of study.

This volume brings together the work of leading international scholars across criminology, sociology, political science, and law - along with contributions from reform-minded practitioners - to examine a variety of issues in prosecutorial behaviour and the institutional structures that frame their behavior.

The Handbook connects the dots among existing theoretical and empirical research related to prosecutors. Major sections of the volume cover (1) prosecutor performance during distinct phases of a criminal case, (2) the features of the prosecutor's environment, both inside the office and external to the office, that influence the choices of individual prosecutors and office leaders, and (3) prosecutorial strategies and priorities when dealing with specialized types of crimes, victims, and defendants. Taken together, the chapters in this volume identify the founding texts, discuss leading theoretical and methodological approaches, explain the scope of unresolved issues, and preview where this field is headed. The volume provides a bottom-up view of an important new scholarly field.
Publication Date
5-26-2021
Publisher
Oxford University Press
Keywords
Prosecutors, prosecution
Recommended Citation
Gold, Russell M.; Wright, Ronald F.; and Levine, Kay L., "The Oxford Handbook of Prosecutors and Prosecution" (2021). Books. 53.
https://scholarship.law.ua.edu/fac_books/53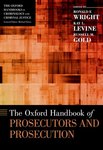 COinS